Metalika - Concrete Making Machines Manufacturer
Factory " Metalika" manufactures high-technology machines for concrete production industry and custom made solutions upon customer's request.
Metalika have been in business for 40 years. Our dedication and experience have positioned us as a leaders in Serbia and surounding region. Our concrete making machines, according to customers from all over the world, have proven as successful, reliable and productive.
Concrete Making Machines :
- Concrete block/paver/curbstone machines (stationary - single pallet machines)
- Concrete hollow block machines (movable or stationary)
- Concrete block/paver/curbstone plants automatic or semiautomatic - turn key system
- Moulds for dry cast production (hollow blocks, paving stones, curbstones, landscaping products, parking pavers, chimney blocks....)
- Block splitting machines and lines
- Machines for concrete pipes
- Concrete mixers
- Compact concrete batching plants
- Girder joist production lines
- Rebar processing machines: Straightening, bending and cutting
- Crane silos for concrete
- Circular saw for stone and wood cutting
- Hammer Mills for stone, bricks and glass
- Custom made solutions upon customer's request
Metalika offers machines and equipment from entry level to high- end level production capacity to satisfy different market needs.
Our mission is to provide most suitable solutions for concrete product industry during planning, installation and training, as well as, best after sales service.
Let's grow business together!

LATEST TECHNOLOGY.
40 years experience. 15.000 happy customers.
Wet cast concrete robotic line
WET CAST CONCRETE - PRODUCTION EQUIPMENT for CONCRETE PRODUCTS
Metalika proudly presents new, successfully developed product! Completely automatised robotic production line for production of wet cast concrete products.



Solutions developed by the company METALIKA enable regular productions at high speed and with steady quality, as well as, fast return on investment and modularity. METALIKA develops and offers full range of WET CAST CONCRETE production lines.
More about Wet Concrete Robotic Line ...
Moulds for dry cast production
Any type of blocks, or other concrete products can be produced by affixing the desired mould to our concrete making machines. Several standard moulds are readily available. Custom moulds can be produced..
Custom made moulds ...
Stationary and Movable Block Making Machines
Simple Concrete block machine VPS-1000
Versatile - wide product range, entry-level low-cost single pallet laying (stationary) machine. Product range: paving stones (slabs, tiles, interlocking and rustical pavers)
curb stones (kerbs) etc.
Concrete block machines VPS-3000
High-end level production semiautomatic or automatic single pallet laying (stationary) Concrete block machine.
Concrete block plants
Main parts of concrete block plant: Concrete batching plant for concrete production,concrete transport from mixer to block machine (belt conveyor, skip or forklift silo)
concrete block machine (VPS-2000, VPS-3000 or VPS-4000), automatic control unit with PLC and touch panel ....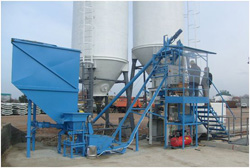 Concrete pan and drum mixers
Metalika offers range of Pan Mixers with outputs from 125 litres to 330 litres. Pan Mixers are designed for concrete block industry.
NEW Concrete batching plants METALIKA
Classic Mobile concrete plants: BS-15, BS-25, BS-60
Mini scraper plants: MB-250,
Compact concrete plants: MBT-250, MBT-500 and MBT-750
Our factory in Sopot Serbia (40 Km from Belgrade)